Leo bloomed!
"Then one day,
in his own good time,
Leo bloomed!"

Robert Kraus Leo the Late Bloomer

It's been a rough week, but I don't understand why because it was really only four days long. But something that always cheers me up is reading children's books. I'll go to the children's section of the library or the bookstore and pick up which ever book catches my eye. Or I'll go to my bookshelf and pick an old favorite. Guess which book I decided to read? If you haven't already guessed from the title or the quote or from the large picture, I choose
Leo the Late Bloomer
by Robert Kraus.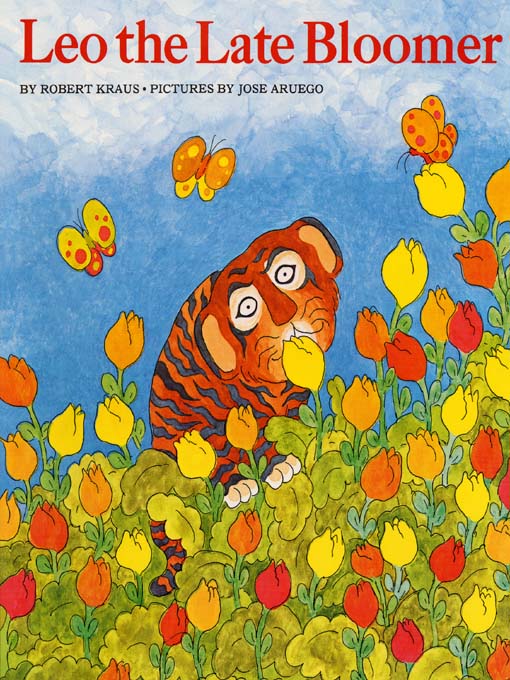 What makes Leo so special is that readers of any age can relate to his story. Who doesn't feel like a late bloomer at some point in their lives? I'll be the first to admit that I've felt like a late bloomer more than once with different things. This is what I love about children's literature: it sticks with people even when they've
—
dare I say it?
—
grown up.
My mom likes to grow avocado trees. Sometimes she saves the pits of avocados, puts toothpicks in the sides of the pit, and props it up on top of a glass filled with water.
Sound confusing? Check this site out.
After it's grown its roots, the pit can be planted in soil, and it will grow into an avocado tree.
You probably have no idea where I'm going with this, but that's okay. Keep reading.
Well, I took a liking to naming the avocado trees once they start to sprout their first root. The first I named 'Sprouty' because it was sprouting (I'm terribly creative). The second pit took a while to sprout; I named this one 'Leo.' As Sprouty was growing roots and thriving, Leo was taking his time.
One day, we noticed that Leo started growing faster and taller than Sprouty. When we potted the avocado pits, Sprouty kept growing at a steady pace. But Leo, in his own good time, bloomed. Now Leo is a taller and more plush (funny word) than Sprouty.
As weird as it sounds, I'm proud of this plant. He lived up to the great character he was named after. I can't help but think of this avocado tree when I read
Leo the Late Bloomer
and I can't help but think of Leo when I see this avocado tree.
So yes, I'm strange.
What are some books from your childhood that you've grown attached to in some way?
{\rtf1\ansi\ansicpg1252\cocoartf1038\cocoasubrtf320 {\fonttbl\f0\fnil\fcharset0 Monaco;} {\colortbl;\red255\green255\blue255;} \margl1440\margr1440\vieww9000\viewh8400\viewkind0 \deftab720 \pard\pardeftab720\ql\qnatural \f0\fs24 \cf0 \ \ } {\rtf1\ansi\ansicpg1252\cocoartf1038\cocoasubrtf320 {\fonttbl\f0\fnil\fcharset0 Monaco;} {\colortbl;\red255\green255\blue255;} \margl1440\margr1440\vieww9000\viewh8400\viewkind0 \deftab720 \pard\pardeftab720\ql\qnatural \f0\fs24 \cf0 \ \ }