Unaccepted Nonacceptance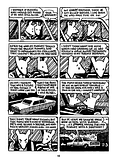 During Jess Orlowski's presentation for Maus, she mentioned Art's competition with his deceased brother, Richieu. He never knew Richieu because he died during the Holocaust and Art was born afterwards, but he still felt like he needed to compete with him. Richieu died as a child, while he was still innocent, before he could make any real mistakes. Since that's not the case with Art, he felt his entire life that he could never earn the reverence his parents have for Richieu for him.
This is one of the themes for both Maus I and II. It seems like Art needs his father to accept him, and he tries to find a way to do that by writing these books. It's not that his father doesn't love him; it's just that Art feels like he can't fully be part of his world because he can never understand what he went through.
Jess Orlowski has
two
excellent
blogs
on Maus.
If anyone who reads my blog who isn't in my class, I highly suggest reading Maus and also Persepolis. I love historical graphic novels!
Trackback